Our Process
Web Design and Hosting Package Starting at $2,299
Let's Get Started!
Step 1 : Tell us what you want. Show us websites you like and don't like. We can talk about this over the Phone (510) 276-9902 and/or by e-mail.

Step 2 : Pay Deposit. We require a 50% deposit of $899 via credit card (CC) to start your project. When the deposit is received, we will start collecting your site content.
Step 3 : Gather site content. This can happen a couple of ways...Via e-mail, in person or via US mail. To keep cost down, we prefer to receive your content via e-mail or CD. US mail and fax works too, but we do charge an added fee for re-typing the content. See Step 4 & 5 below...
How to send your files
Send photos, logos, artwork in any of the following formats: PSD, JPG, GIF, hardcopy print. Scanning available. Send documents in any of the following formats: .txt, .doc, etc.
Learn more about gathering content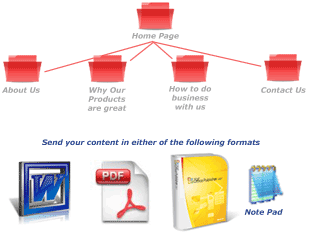 Step 4 : We assemble the website, bringing together your content with our programming and artwork. At this point, we will show you a home page and sub-page sample/mockup online at a test location (URL), for your approval. If necessary, changes are made and resubmitted for your approval. This process can reoccur up to three (3) times. If more changes are needed, they will happen after going live and be charged at a per Hr rate of $170/Hr, or you can make editorial changes (1 hour per quarter) at no additional cost through your hosting contract with us.
Step 5 : At this point your website goes live! Once the site goes live, we will charge your credit card the final $899. Upon successful transaction, your site goes live.
What's Next?
Who, where and how are visitors finding your website? HERE IS WHERE WE REALLY EARN OUR MONEY! We follow up and discuss with you how and where people are finding your website. What follow-up tactics we might used to correct our/your online marketing methods to gain more leads and ROI. The best part...IT'S INCLUDED!
We are always here to talk about ways to improve your success and no, we are not just trying to sell you more stuff. Feel free to ask our current clients about our outstanding client satisfaction.